DMSYSTEM, Modular Construction System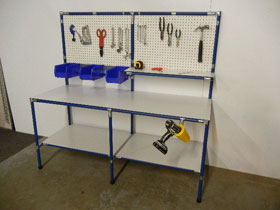 DMSYSTEM is a versatile Pipe and Joint system that allows users to fabricate custom shelving and racking, work stations, push carts, gravity conveyors, tool racks and many other assemblies generated from his imagination.
Used mainly as a Lean Manufacturing and a Continuous Improvement tool, the DMSYSTEM also helps when designing Ergonomic Assemblies.
Steel zinc plated connectors, colored resin coated steel pipes, and a wide range of components makes of DMSYSTEM an ideal alternative to standard methods of fabrication.
An Allen key and a metal saw are the only basic tools required. No weldind, no painting, and most important, each and every components is reusable.
A REAL MECCANO SET FOR GROWN UPS
Denmar-Tech, the manufacturer and distributor, also offers a design and fabrication service, when necessary. Please do not hesitate to contact Denmar-Tech
And under the same roof...
Copyright © 2011 DMSystem Tous droits réservés